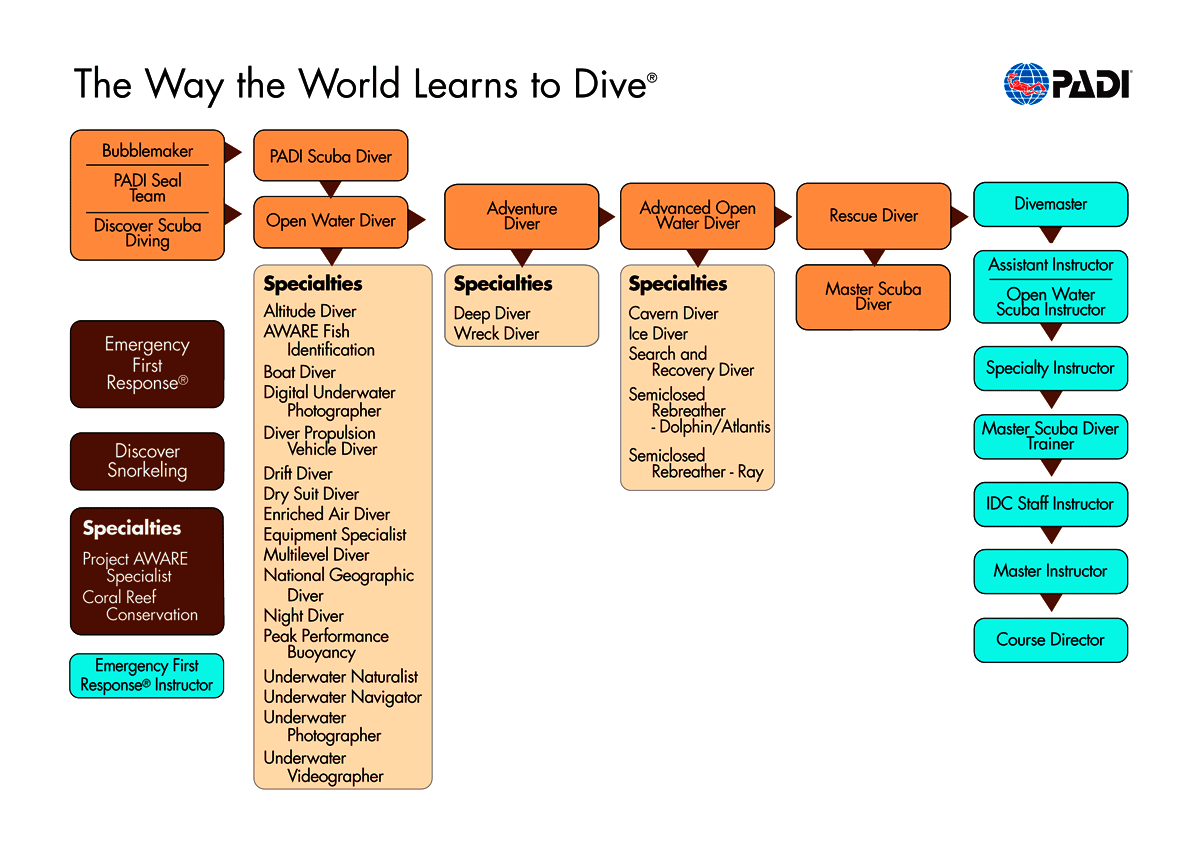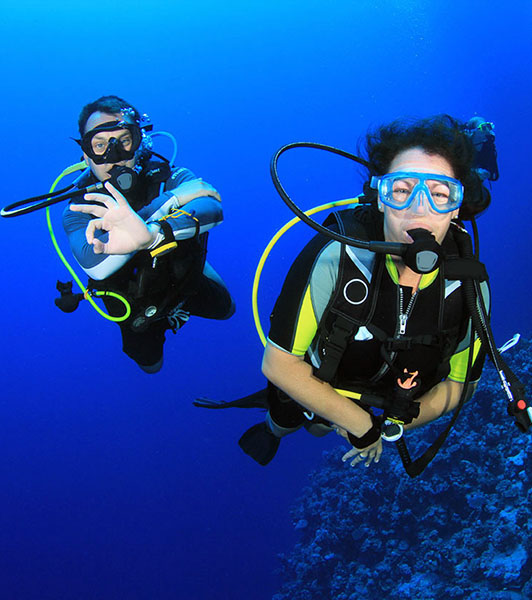 DISCOVER SCUBA DIVING IN CRETE (2 hours)
The program "Discover Scuba diving" will take up only three hours of your time. It involves a 30-minute instruction period in the basic principles of diving and the use of the basic equipment required.
This is followed by a dive in a pool or confined water where divers practice a few basic diving skills. Then the program involves an Open Water dive to a maximum depth of 10 meters water. The PADI Discover Scuba Diving program lets you experience the thrill of diving under the supervision of a PADI Instructor in ideal conditions.
The Discover Scuba Diving experience is a great way to get a head start on your PADI Scuba Diver or Open Water Diver certification. That's because the skills you complete during your adventure may credit these certification levels.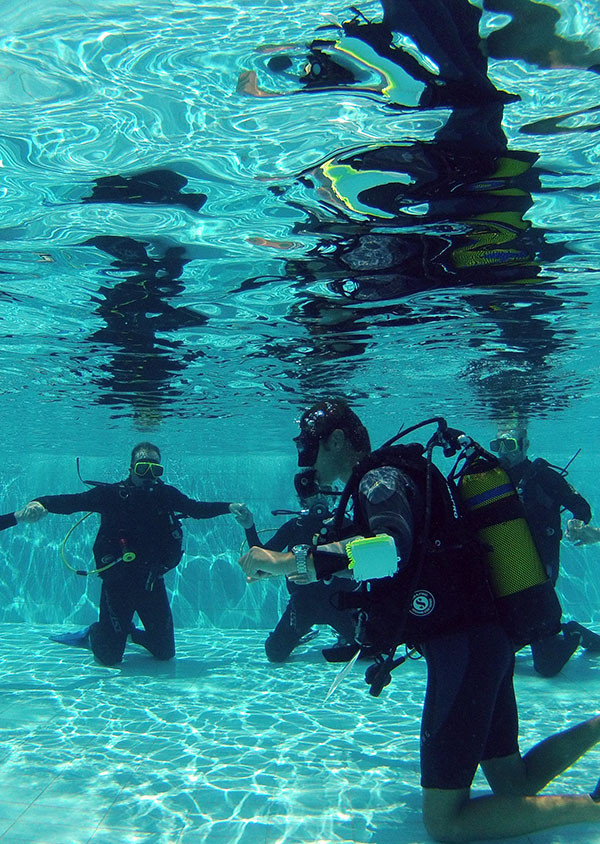 PADI SCUBA DIVER (2-3 days)
A short-cut to enjoy the first steps of Scuba-diving. No diving experience is required. If you always wanted to try the joys of diving but didn't find the time yet to do so – here is your chance: In only two days you will be able to dive in the open sea and discover the "real underwater fun". This is your chance to slip on some fins, strap on a mask and experience an intense adventure. The PADI Scuba Diver course is a pre-entry level certification that is perfect for vacationers.
Training consists of the following course-sessions:
three theory lessons
three pool/confined water lessons
two dives in the sea.
The PADI Scuba Diver rating allows you to get certified quickly and easily because it's a subprogram of the Open Water Diver course. With the Scuba Diver certification you can dive under the direct supervision of a PADI Divemaster, Assistant Instructor or Instructor. This Program is a wonderful opportunity to explore the underwater world with the comfort and safety of having an experienced guide with you at all times.
As soon as you have the chance you can continue your diving-education in any PADI dive centre and become an Open Water Diver. In order to fulfil the requirements for the open water diver certification, as a scuba diver, all what you need to do, is another two theory lessons, two pool sessions and two sea dives.
Any one ages 15 or over qualifies for the PADI Scuba Diver course. For the younger fans between the ages 10 and 14, the PADI Junior Scuba Diver course is available.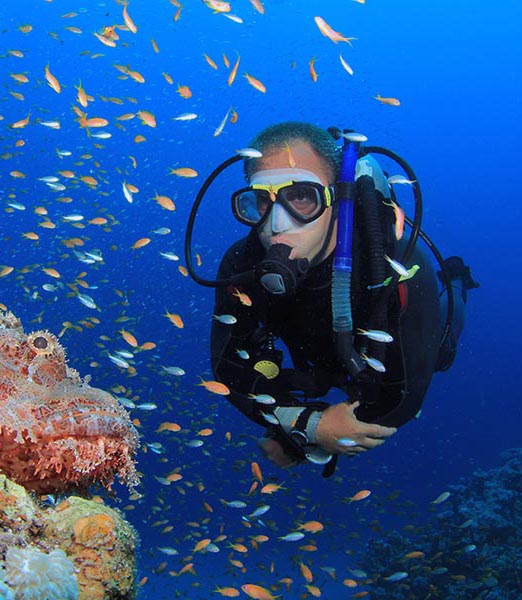 PADI OPEN WATER DIVER (3-5 days)
Now is the time to dive into the PADI Open Water Diver course, the most popular dive course in the world! Throughout the course, you'll learn fundamentals of scuba diving, including dive equipment and techniques.
You will also earn a PADI Open Water Diver certification that is recognized worldwide. As a certified Open Water Diver you have the freedom to dive with a buddy independent of a professional.
The warm and clear waters of Crete, the brand new equipment reserved for you and our long experience in scuba diving guarantee an enjoyable and exciting training period.
This basic training is designed as an intensive (4-day) or regular (5-day) course. It involves five theoretical sessions (2 hours each), 5 pool/confined water sessions (1-hour each) and four dives in the sea (2 dives per day).
Open water learning options also include group or private instruction. This course offers tremendous flexibility and lets you work out individual needs with the Instructor.
If you are between 10 and 14 or have a child between these ages, there is a PADI Junior Open Water Diver course available. The price of the package also includes full use of the diving equipment, transport to the dive sites with our boats and the certification card.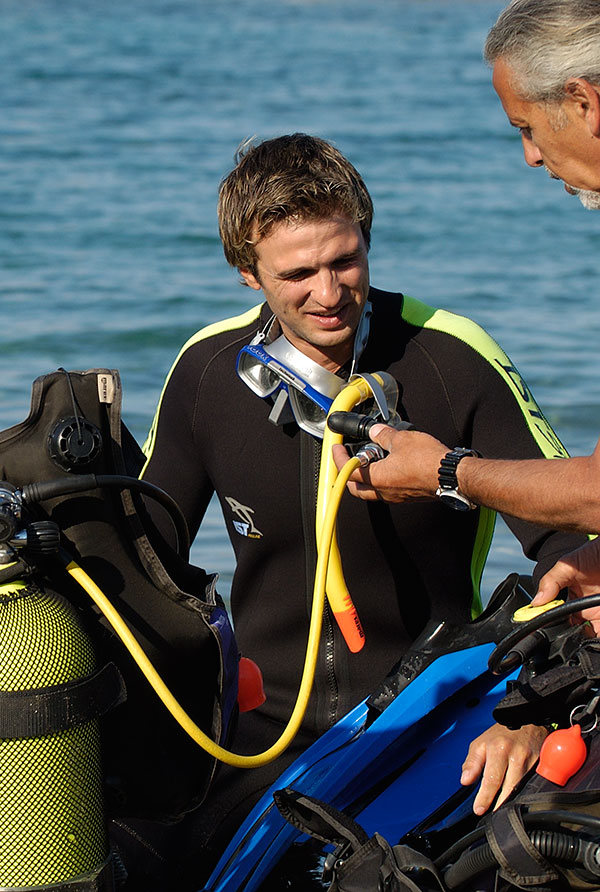 PADI ADVANCED OPEN WATER DIVER (2-3 days)
If you are a certified diver (PADI OPEN WATER, CMAS 1, BSAC NOVICE, etc.) and are looking for new experiences, skills and fun, then the Advanced Open Water Diver course is just for you.
PADI Advanced Open Water Diver course fine – tunes your dive skills and allows you to explore all that diving has to offer.
The Advanced Open Water Diver course offers you a structured program where you gain additional experience and skills under the guidance of a PADI Professional.
Training lasts for two to three days and involves: One navigation dive, one deep dive as required dives and three more dives selected out of the following options: night dive, search & recovery dive, one multi-level dive, boat dive, u/w-photo-dive, u/w-naturalist dive, peak performance buoyancy.
All in all five dives are required to complete the course. Each dive lasts for approximately three hours.
So what does Advanced Open Water Diver course offers you? New experiences, new skills, lots of diving and thrilling adventures.
Minimum age for the Junior Advanced Open Water Diver certification is 12 years and for the Advanced Open Water Diver is 15 years.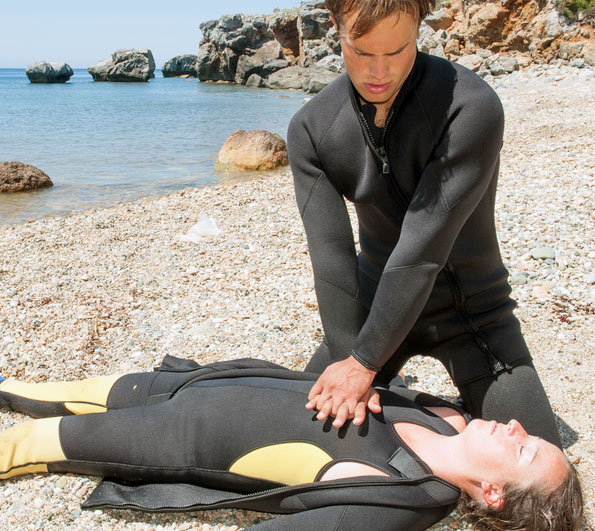 PADI First Aid – EMERGENCY FIRST RESPONSE (1day)
Take a step toward emergency preparedness and meet PADI Rescue Diver prerequisites with Emergency First Response.
Emergency First Response is a PADI affiliate that specializes in teaching these lifesaving skills – and they're for anyone, not just divers.
As one of the foremost international CPR and first aid training companies, Emergency First Response gives you the confidence to respond to medical emergencies — not just in the diving world, but in your every day world with your family, friends, neighbors and coworkers too.
The fun part about Emergency First Response training is learning serious medical emergency response skills in an upbeat, positive environment. You gain the confidence that you are prepared to help in an emergency.
emergency first responseWhat You Learn in the EFR Primary and Secondary Care Courses:
BLS (Basic Life Support) CPR and rescue breathing at the layperson level
AED (automated external defibrillator) use (optional)
Preventing and caring for shock
Spinal injury management
Use of barriers to reduce disease transmission risk
Basic first aid and first aid kit considerations
To enroll in Emergency First Response courses, you must:
Care about other people and want to be able to assist them in a medical emergency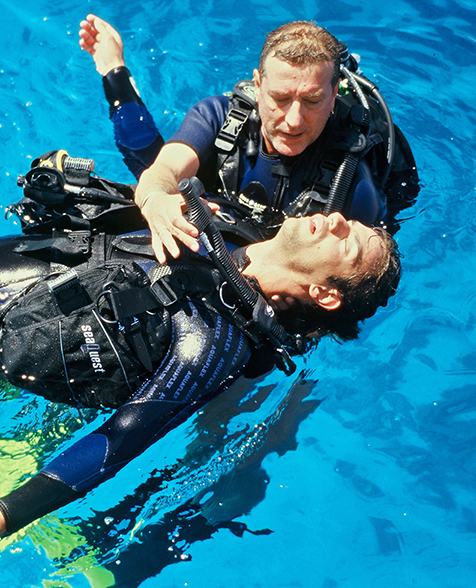 PADI RESCUE DIVER (2-3 days)
The serious diving fun!
The PADI Rescue Diver course develops your knowledge and skills so you can effectively perform diver assists and rescues, manage diving accident situations and render first aid. Rescue Diver course is an important step in expanding your knowledge and experience as a diver. In spite of the tight training conditions, fun and enthusiasm prevail.
It's a 4-6 day course which covers: self-rescue and diver stress, diving first aid, emergency management and control, swimming and nonswimming assists, panicked diver response, underwater problems, missing diver procedures, surfacing the unconscious diver, in-water artificial respiration, egress (exits), first aid procedures for pressure related accidents, dive accident scenarios.
To get into the PADI Rescue Diver course, you'll need to be certified as a PADI Advanced Open Water Diver or equivalent and must be at least 15 years old. If you're between the ages of 12 and 14 and hold a PADI Junior Advanced Open Water Diver rating, the PADI Junior Rescue Diver course is available.
You'll also need to have successfully completed the EMERGENCY FIRST RESPONSE CPR and first aid courses or a sanctioned program in first aid and CPR within the past 24 months. After successfully completing the course, you'll receive the internationally recognized PADI Rescue Diver certification card.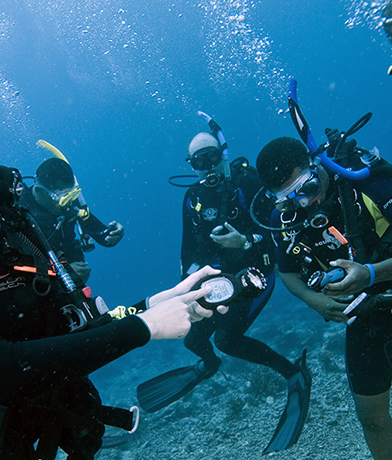 PADI DIVEMASTER (min 10 Day)
Ready for a challenge? Are you looking to join the leaders of the pack? Then look no further! The PADI Divemaster course is the first rung on the leadership ladder in the professional system of diver education.
A PADI Divemaster is a person who:
Has a high level of personal diving skills.
Has instructor level knowledge of diving theory.
Has had significant training in how to assist an instructor during training activities.
Is able to assume appropriate responsibilities that benefit the welfare of other divers.
Many divemasters become PADI Instructors. So, the training and experience you gain through the PADI Divemaster course helps you to shape your abilities and attitude towards the instructor's professional level.
You get knowledge through real PADI Open Water Diver, Advanced Open Water Diver and Rescue Diver courses and by assisting in the dive center's functions.
In order to enroll in this course you must:
Be a PADI Rescue Diver or holding an equivalent certification from another certification organization
Be at least 18 years old
Have at least 40 logged dives to begin the course and 60 dives to earn certification.
Have CPR and First Aid Training within the last 24 months
Be fit for diving and submit a Medical Statement (PDF) signed by a physician within the last 12 months
Want a fun and exciting career!
PADI SPECIALTIES
The Specialties program is the perfect opportunity to gain additional experience and skills under the guidance of a PADI professional.
You need your PADI Open Water Diver certification or equivalent and the desire to experience thrilling adventures. This program includes a total of three dives from the list below:
For divers between 10 and 12 years old:
Boat
Underwater Naturalist
Underwater Navigator
Underwater Photography
Peak Performance Buoyancy
For divers 12 years old and older:
Boat
Underwater Naturalist
Underwater Navigator
Underwater Photography
Peak Performance Buoyancy
Deep
Search & Recovery
Multilevel
Night
Wreck
If you are 15 or older and a PADI Open Water Diver or equivalent, then you are ready for the Adventure Diver course. Or, If you are a PADI Junior Open Water Diver or equivalent and between the ages of 10 – 14, there is the PADI Junior Adventure Diver course.